Manscaping From the Neck Up. An Interview with LA's Top Barber, Felix Omar
No doubt about it, my boys have an amazing barber. My husband has been going to Felix Omar for years and though he's slammed with clients from 5am on, Felix has always found time in his busy schedule to squeeze our little boys in from their first haircuts on. Felix and his family have become dear friends and he's such an LA staple that truth-be-told, he knew more people at our one-year-old's birthday party than the b-day boy's grandma.
He's the most sought after barber in the city and his high profile clients come from all over Los Angeles to see him. He has a vision for each of his clients' looks and his motto is "I want this haircut to be the best I've given him".
Basically, he's a gem. And he's shared some of his best tips here with us. (I'll leave out the part where he told me that some barber's have to have hairballs surgically removed like cats. Always a story when you go see Felix).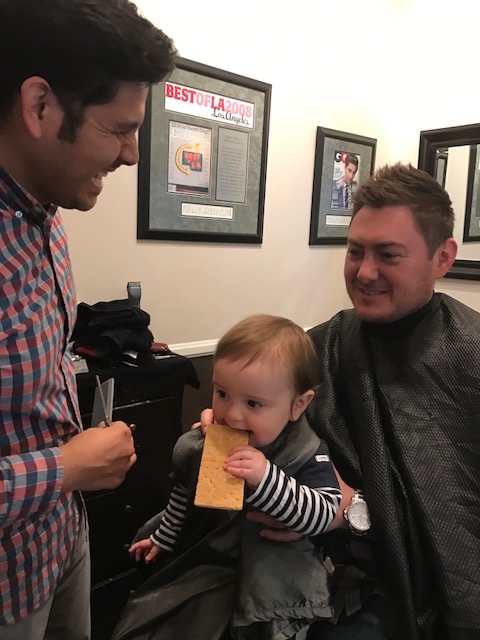 Q. How long have you been barbering and how did you decide that's what you wanted to do?
A. It's almost been 20 years, can you believe it? I grew up seeing mom doing hair and makeup for friends before their weeding or any big night out. I honestly believe that when my passion began.
Q. Do you have a vision for how each clients hair should look?
A. Absolutely! Before I even touch their hair I picture what the end result will be. My motto is "I want this haircut to be the best I've given him".
Q. When a client needs their eyebrows or ear air done, how do you go about suggesting that?
A. Thankfully, that's something wives are super good at. Most of my clients tell me " Felix please don't forget my eyebrows and ears hair or my wife will not be too happy"
Q. Any tips for men on maintaining their haircut and beard?
A. Using a comb with a hair trimmer is a helpful way to make any gentlemen look well groomed.
Q. What's the ideal time for in between cuts?
A. It depends of their hair style. I recommend my clients to come in between 3 to 4 weeks.
Back to me -- my boys go every four weeks and in between haircuts, I use this little personal shaver to shave their necks and keep their haircut looking fresh.
Here are a few of my favorite products for my husband and boys -- click the photos to check them out.