10 Things, Fall Edition!
When we moved from LA to Austin August of last year, I felt like we were trading in 100-degree valley autumns for 100-degree humid falls. In either city, when school starts and you're getting ready to pick out Halloween costumes, you're just so. over. your summer clothes and sweating. So I'm officially boycotting the weather by wearing jeans and black suede boots, etc. 'Cause the truth is, I'm gonna sweat in whatever I'm wearing anyway, so I might as well wear what I want!
Here's a 10 Things, Fall Edition/Summer roundup since I took the whole summer off!
1. I performed in an 80s improv musical comedy over the summer! It was so much fun and you can check out one of the performances here (they're automatically recorded from the back of the theater, so just skip ahead about 10 mins or so and you start at the beginning). Each show — and each song — was made up on the spot AND 3/4 were GREAT (one was "just good" ha - it is improvised after all), but they were all hilarious. I've also recently been cast in a new show that opens in November called "Super Team!"
2. We went on a cruise this summer from Galveston, Texas. The kids loved Royal Caribbean's kids' club and their huge water play area and slides. Matt and I enjoyed the casino (Disney Cruise Line doesn't have casinos), the nightlife, and the room service, especially for breakfast. So much easier than getting hangry kids ready for a dining room brekky. I'd still be interested in trying other luxury lines but I'd for sure book with Royal again.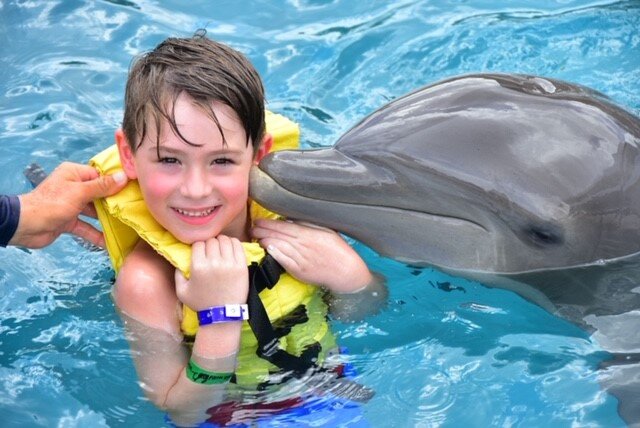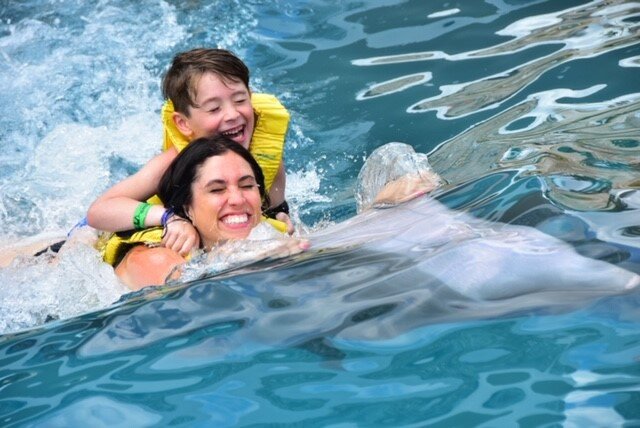 3. Sterling has graduated from physical therapy! If you're a newer reader, Sterling, my six-year-old, has mild cerebral palsy. It's mostly undetectable, but when he had a growth spurt last year his left leg muscles became very tight and he did PT combined with an overnight brace to help with his range of motion. So at least for now, he has graduated out of it and it feels like a great accomplishment for him. For all of us.
4. I'm so pumped to go to Austin City Limits Festival this weekend! I'm secretly hoping Cardi B brings me on stage and is like "Oh, you should be my back up mom rapper". And then Lizzo's like "No, she's MY backup mom rapper". Ugh, so embarrassing for them to fight over me like that, you know?
5. Today's my birthday! Remember when I did that adult cake smash and had blonde hair? Brahaha. Tonight we're taking the kids to one of my favorite restaurants here in Austin, Jeffrey's, then Saturday we're seeing the Downton Abbey movie and then ACL!
Matt surprised me big time this morning (which is really hard to do - I have an unintentional pulse on like, all things - is that just being a mom? I dunno). But. You guys — he got me a guitar! I've been wanting to learn but I haven't mentioned it in a while, so it was an extra big surprise that he thought of that.
6. Scarlet's ninth birthday party was two weeks ago. When I put her to bed last night, I told her nine years ago today, I was about to turn 27 and had a two-week-old baby Scarlet I'd been dreaming of all my life. <3
Here are some highlights from her sleepover party. It was so cute - we served homemade Butter Beer, tried our best to run a Quiddich Match, and made strawberry shortcake. For Breakfast.
7. We hit up a few local hotels this summer:
The Hotel Galvez - We felt so cozy here. I loved the old Hollywood style, right on the beach. We got a cabana for the day and had a blast at their adorable pool.
Horseshoe Bay - This was an easy little trip from Austin. There's so much to do here, from a little man-made beach on the lake, to a huge kids club and play area, to s'mores on the lawn in the evenings. We stayed in one of their apartment-style rooms and I think I'd prefer to be in the actual hotel building next time.
Lost Pines Resort and Spa - We did a 24-hour stay at this resort as a little "back to school" getaway for the kids. Their lazy river and beaches take their pool up to a small but legit water park. We could've spent two days there, there's so much to do on the property. I'd compare it to La Costa in San Diego. But with more to do.
8. Matt and I are planning out our 10-year-wedding anniversary trip for December. It's going to be our longest getaway, by like, more than double (six nights!) since having the kids and we're thinking Turks and Caicos. If you've been there, let me know what you think and where you stayed!
9. Shep has gone through multiple phases over the summer:
The koozie phase (please see below). He stole them off friends' boats, was gifted his own, then moved on to his next phase

The early riser phase. "Mommy! I put my shoes on all by myself!" [3:45am]

The tornado phase. We are currently in this one, where everything he touches is destroyed within five minutes. Add sticky to that, too.
10. There's no 10! I totally ran out of time and I'm off to get an iced lavender latte before school pickup cause it's Friday, it's my b-day and I want one! Love you all, thank you so much for following along!!!!!!!
Get excited for next week! I'm getting full on OPRAH meets GOOP with my special guest. You won't believe your chakras <3
Kick back and stay a while! Here are some other recent articles. Follow me on Pinterest, Instagram and Facebook (though I'm taking a social media break, I'll be back!)